A&D HR-250AZ Analytical Balance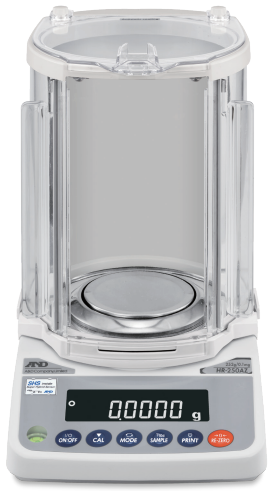 A&D HR-250AZ Analytical Balance

A&D HR-250A Analytical Balance:
-Capacity: 252g
-Readability: 0.1mg
-Minimum weight: 140mg
-Linearity: +-0.3mg
-Stabilization time: Approx. 2 seconds
-Internal calibration: YES
-Display type: Reverse backlit LCD
-Interface: RS232
-External dimension: 198(W) x 294 (D) x 315 (H) mm
-Net weight: Approx. 3.9kg
-Power Supply: AC adapter

- Compact Super Hybrid Sensor (C-SHS) technology - enables you to perform high-speed, frustration-free weighing even at a readability of 0.1 mg.
- Built-in calibration mass - lets you ensure the accuracy of your balance with just one key press.
- Compact footprint: 198 mm × 294 mm - With the C-SHS, the footprint of the balance is smaller than the ISO A4 (210 mm × 297 mm) paper size, maximizing opportunities for the use of an analytical balance in even the smallest of spaces.
- Rotary sliding doors - Unlike conventional analytical balances, the HR-AZ/HR-A series requires no extra space at the rear for accessing the weighing chamber, as the doors simply rotate behind the balance.
- Removable breeze break - The breeze break is easily removed using a unique clip system, allowing fast, simple cleaning and use in confined spaces like gloveboxes and controlled environment cabinets.
- Lean design for affordability - The HR-AZ/HR-A design is all about "keeping it simple" without compromising quality or performance. This is a compact, precise, and reliable analytical balance for the value-conscious user.
- GLP/GMP/GCP/ISO compliant output - For compliance and documentation requirements, the HR-AZ/HR-A series can output the balance manufacturer, model, serial number, ID number, date and time*1, space for signature, and calibration records.
- User access control (UAC) with password function - The balance can be password-protected to allow only authorized individuals to use it or change its settings. It is also possible to disable any change to the balance settings including calibration or, for HR-AZ models, correction of the internal mass value.
- Adjustable response characteristics and hold function - From three preset combinations of weighing speed and stability (FAST, MID, or SLOW), select the one that best suits your environmental conditions (drafts and vibrations). A hold function is also available for weighing animals.
- Statistical calculation function - The balance displays and outputs statistical calculation data including number of data, sum, maximum, minimum, range (maximum–minimum), average, standard deviation, and coefficient of variation.