DA-130N Portable Density/Specific Gravity Meter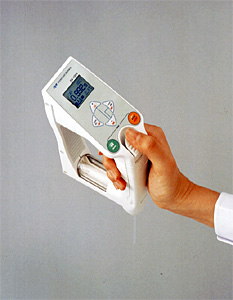 DA-130N Portable Density/Specific Gravity Meter
KEM DA-130N Portable Density Meter/Specific Gravity Meter
-MEASURING METHOD: Resonant frequency oscillation
-MEASURING RANGE: 0.0000 to 2.0000g/cm3
-ACCURACY: ±0.001g/cm3
-RESOLUTION: 0.0001g/cm3
-TEMPERATURE RANGE: 0 to 40.0° C (32 to 104° F)
-BACKLIT DISPLAY: Density, temp-compensated density, SG, temp-compensated SG, Brix%, Alcohol wt%, Alcohol vol%, %H2SO4, API degree,
Baume degree, Plato degree, Proof degree, Temperature in ° C/° F, Sample No.,
-TEMPERATURE COMPENSATION: Yes
-AUTO-CALIBRATION: Yes
-SAMPLING BY: Syringe-type hand pump
-DATA STORAGE: Up to 1,100 samples
-POWER SUPPLY: Alkaline battery LR03 (AAA) 1.5V 2pcs
-BATTERY LIFE: Approx. 90 hours
-WEIGHT: Approx.(0.794 lbs)


Applications
●Density measurement of crude oil, fuel oil and lubricant oil.
●Oscillation method is specified in ASTM D 7777.
●Density or Brix measurement of various beverages such as milk, soft drink, fruit drink, etc.
●Measurement of alcohol or extract concentration of beer, whisky, wine, shochu(Japanese distilled alcohol), Japanese sake(fermented alcohol), etc.
●Measurement of Brix or constituent concentration of food materials for quality control purposes.
●Density or SG measurement of oils and fats such as vegetable oil, animal fat and oil, etc.
●Conforming to Japanese Pharmacopoeia.
●Concentration check of etching solution or acid pickling solution for electronic parts.
●Concentration check of flux or plating solution.